Homes are supposedly built to last, but you have to admit that battling the elements year in and year out can take its toll on a property. With the weather even harsher and more erratic than usual, homes are really taking a beating, making it necessary for homeowners to have their properties inspected and maintained fairly regularly.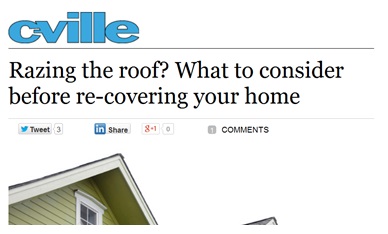 Were the weather constantly good, you can probably last a year or two without having to call on roof and siding contractors in Manassas VA to give your home a once-over. But the reality is that you're going to have to bring in the professionals for inspections more often or your home might not be able to keep up.
Where your roof is concerned, there will come a time when, despite frequent assessments and repairs, it will have gone too far past its prime to be worth saving. When that happens, these are the choices left to you:
If you're wondering whether to repair or replace your existing roof due to its age or its condition, there are a few things to keep in mind. You might choose tearing off the current roof and starting from scratch, patching a portion of it, or "roofing over" your existing one. (Always make sure your roofer is licensed and insured.)
The part about licensed and insured roofers may seem like an afterthought, but you can be sure that it's very important. A less-than-scrupulous roofer might try to convince you to go in for an expensive replacement when a repair job would do so find a contractor you know you can trust.
As a family owned and operated home improvement business that has been serving the Arlington, Fairfax, Loudoun, Culpeper, Fauquier, and Prince William counties for more than 20 years now, Peak Roofing Contractors is one such contractor. They provide topnotch services for roofing, siding, windows, and gutters in Manassas VA.
Peak Roofing Contractors has worked hard to build a first-class team that stands behind everything they do. Their dedication to excellence has paid off well in accreditations that reflect the company's commitment to offering only the best home improvement services. Peak Roofing Contractors is a Better Business Bureau-accredited business and a member of the National Roofing Contractors Association.
(Article excerpt and image from "Razing the roof? What to consider before re-covering your home", C-Ville, April 7, 2014)