Gutters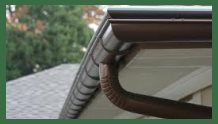 If you're in the market for roof replacement, it's wise to also consider installing new gutters in Manassas, VA. New seamless gutters will help to protect your valuable investment, as well as add an attractive finishing touch to your home's exterior. Peak Roofing Contractors provides the following expert gutter services throughout Northern Virginia.
Gutter inspections
Gutter installation
Gutter protection
We offer a complete line of gutter products from Englert™ and other suppliers, in a full range of coordinating colors and styles. Our expert team will help you choose the options that best complement your roof and the exterior of your home. You can depend on us to install your new gutters with the same care and attention to detail that have made Peak Roofing Contractors one of the most trusted roofing companies in Northern Virginia!
The Dangers of Ignoring Gutters
When left to their own devices, gutters not only become unsightly, they also threaten the structural integrity of your home. Clogged gutters result in overflowing water that may pool around the foundation of your home, causing basement flooding and foundation cracks. Backed-up water may also damage soffit and fascia boards, siding and even the interior walls of your home, and promote the formation of mold inside walls. Standing water inside gutters allows mosquitoes and other pests to multiply, so for this and all the reasons we've mentioned, it's vital that your gutters stay clear and free-flowing. Peak Roofing Contractors can install durable gutter protection that will keep out leaves and debris, eliminate the hassle of cleaning your gutters twice per year, and ensure your new gutters can keep water where it belongs: safely away from your home.
Haag Certified Roof & Gutter Inspections
Following a storm, our Haag Certified inspectors can determine if your roof and gutters have hail or wind damage, and also inspect for other gutter problems.
For Gutters in Manassas, VA, Trust Peak Roofing Contractors
We would be pleased to take care of all your gutter needs, especially if we will be installing your new roof. Call Peak Roofing Contractors today at (703) 753-4585 for a FREE estimate on any service in Manassas, Ashburn, Fairfax, Gainesville or throughout Northern Virginia.