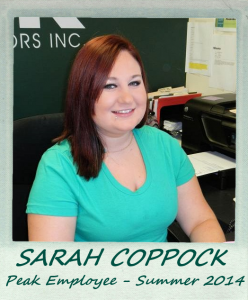 It's not always a simple thing to determine who gets to be named the current "Peak Employee" at Peak Roofing Contractors – especially when you have so many loyal, dedicated and hardworking employees to choose from! – but naming Sarah Coppock this summer's Peak Employee was an easy decision. ~ Dawn Smith
Sarah Coppock is a rare find these days. – An older soul trapped in a younger body.  She has all of the energy, drive, curiosity, and spirit that fits her age 'to a tee', plus her activities away from the office match her youthful exuberance; sporting events, concerts and the occasional Thursday Night pub crawl.  But don't let her lack of chronological years fool you – deep down, she's as 'old-school' as it gets!  As much as Sarah likes to catch a Redskins game, cheer on the Nationals or scream at a Jason Aldean show, she also rocks the office.  Sarah is punctual, thorough, conscientious and willing to roll up her sleeves to get the job done with nary a complaint.
Outside of work, Sarah is blessed with great relationships, though two stand out above the rest; her loving Mother and her amazing husband Billy.  No matter the circumstance, no matter the time of day, Sarah has been and will be there for them…just like 'old-school'.
Give us a call @ 703-745-5153 to request an estimate or discuss any of your exterior project needs and you'll receive $50 off any Peak Roofing Contractors service. You won't be disappointed!