A lot of my vinyl siding took a beating over the last few years, and I'm thinking about replacing the really weathered pieces myself. Any advice on the best way to tackle the project?
You may think that installing your own siding is a great way to save money, but unless you're truly prepared, you shouldn't plan on tackling this job yourself. Granted, installing siding isn't always a complex job, but when done incorrectly there are consequences like voided warranties and water damage to your home. Even if you don't have the training or tools for siding installation, there are four other solid reasons you should call on a siding company.
1. Manufacturer Training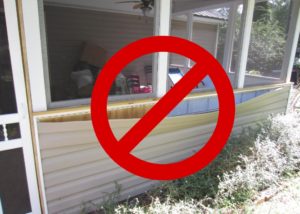 Although installing siding isn't the most difficult home improvement project, it does take plenty of training and knowledge. Some manufacturers have different techniques that only certified siding companies know. Skipping any step in the process can result in a voided warranty or home damage. They also know what to do when they find an issue during the removal of the old siding. In the long run, it's worth calling on the expertise of an experienced siding company.
2. Workmanship Coverage
Any good contractor offers a workmanship warranty or guarantee. They stand behind the work they do. If you install the siding yourself (or hire a handyman to help), you have no one to blame when there's an issue. Workmanship warranties are different than the product warranty but give a similar peace of mind.
3. Understanding the Exterior of Your Home
Just like the old song, "Dem Dry Bones" each exterior element of a house is connected to some other exterior element. The roof is connected to the gutter, the gutter is connected to the soffit, the soffit is connected to the siding, the siding is connected to the window trim, and so on. If you try to repair or replace some or all of your home's siding, it's important you know how your siding connects to the soffit, backer-board, furrow strips, housewrap, and window trim. Otherwise, you're likely to end up with more than just the siding to repair or replace. When you have your siding installed correctly, all you'll be singing is "How Dry I Am"!
4. Installation Time
Presuming you have the right tools, when will you have time to do your installation? Remember that as you remove your old siding, you're exposing your home to the elements. Even if it doesn't rain, properly installed siding provides an R-value to your home that helps with energy usage for heating or cooling. If you're doing the installation yourself, it could take many days, or even weeks to complete.
If you're thinking about installing your siding yourself, ask yourself the following questions:
Do I really have the time to do the installation?
Do I have the tools? (Not only the tools to cut and install the siding but also scaffolding)
Will I have warranty coverage from the manufacturer if I do it myself?
Do I need a permit?
Considering the costs associated with a professional siding company installation and the benefits they offer, you may decide that the additional expense is worth it. Let Peak Roofing Contractors talk to you about the benefits of hiring them as your siding company. Call 703-753-4585 to schedule your free estimate for new siding including our expert installation backed by our workmanship warranty.