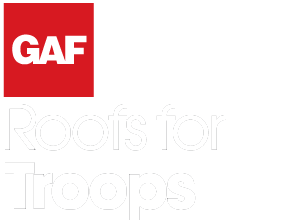 Peak Roofing Contractors & GAF
–both U.S. based corporations–
are giving back to our troops.
We Recognize and Thank You for Your Service, Sacrifice & Commitment
Receive a $250 rebate off your GAF Lifetime Roofing System* when installed by Peak Roofing Contractors, a GAF Factory-Certified Contractor!
In our gratitude to GAF for their generous contribution, Peak Roofing Contractors will also match GAF's rebate dollar-for-dollar to help show our ongoing respect to the men & women who give so much to our nation.
For additional information, please contact Peak Roofing Contractors by Clicking Here or calling (703) 753-4585.
*A GAF Lifetime Roofing System consists of GAF Lifetime Shingles and at least three qualifying GAF accessories. For more information see gaf.com/lifetimeroofingsystem. Also see GAF Shingle & Accessory Ltd. Warranty for complete coverage and restrictions. The word "Lifetime" means as long as the original individual owner(s) of a single family detached residence [or the second owner(s) in certain circumstances] owns the property where the shingles and accessories are installed. For owners/structures not meeting above criteria, Lifetime coverage is not applicable. Lifetime Ltd. Warranty on accessories requires the use of at least 3 qualifying GAF accessories and the use of Lifetime shingles.
Offer valid only for a GAF Lifetime Roofing System* installed on the home of an individual who is (a) in the active U.S. Military; (b) a veteran of the U.S. Military; or (c) a retiree of the U.S. Military. Valid in the U.S. Only. Must be installed between January 1, 2023 and December 31, 2023 by a GAF Master Elite® or GAF Certified™ Contractor. Submission for rebate must be received within 8 weeks of installation date. Limit 1 rebate per GAF Lifetime Roofing System*.
Click Here for Complete Terms & Conditions