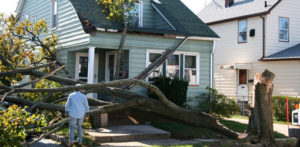 When we come and do an inspection to find the source of the roof leak and provide an estimate for repair, we often find the damage has been there a long time. We know that the longer roof damage goes undetected, the more extensive the damage and costly to repair. That's why we recommend that you perform a visual roof inspection after any major storm and if you suspect an issue, call your local roof repair company. It's easy and takes just a few minutes.
We've had a lot of rain recently. The more it rains, the more homeowners call needing roof repair.
Start Inside
One of the easiest ways to detect roof damage is to head into your attic. If you can see daylight coming in, you have a problem. Of course, not all damage is as easy to spot as that. Use a strong flashlight to look at your insulation. If you notice that it's wet or compressed, you likely have a roof leak. Also look at the underside of your roof. If one area looks darker or stained, it's probably water and another sign of an issue. When you notice any of these situations, you need a roof repair company.
Head Outside
As long as its safe to do so, head outside with a pair of binoculars. Walk around your home and look for shingles in your yard and excess granules in the gutter or downspout. Then you want to look at your roof for any of the following:
Missing shingles
Misaligned shingles
Bent shingles
Missing flashing
Debris on your roof
Dented shingles
All are signs that you need to contact your local roof repair company. They will be able to evaluate the extent of the damage and provide an estimate. If they believe that your damage should be covered by your homeowners' insurance, they will recommend that you contact your agent to file a claim.
The sooner you evaluate your roof and get the damage repaired, the less involved the repair process and probably less expensive too. If you think you may have storm damage or if you haven't had a roofing inspection in the past year, call Peak Roofing Contractors. We're GAF Master Elite® certified installers, and handle insurance claims, storm damage, roofing maintenance, as well as complete roof replacement. Fill out our contact form or call 703-468-4769 for your no obligation inspection.