Cooking Out this Labor Day? Watch Out for Your Grill
Labor Day is a great time to have family and friends over to relax and grill out. Sadly, every first Tuesday of September we get at least one call about fire damage from a grill to someone's home. Don't let that call for siding, gutter, or roof repair come from you this year.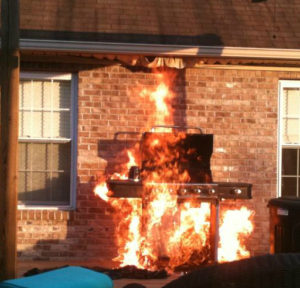 According to the Consumer Product Safety Commission, your grill (or firepit) should be at least 10 feet from your home and any overhang. This is to avoid an errant spark from causing a fire. However, we've seen grills too close to homes melt siding from the heat without a single spark or flame touching the home. We've performed many a roof repair and gutter replacement as a result of a grill fire.
Why is the Grill Such a Hazzard?
One errant spark landing in the wrong place can start a fire. You may think that you're taking proper care but there are many parts of your home that can smolder and ignite causing a great deal of damage. Here are some examples of what we've seen in past years:
Gutter fires – If your gutter is full of leaves and other debris and it's dry, it's the perfect fuel for a fire. Once the spark ignites the fire can quickly spread causing damage to your gutter, roof, soffits, and fascia.
Melted siding – Vinyl siding isn't fire resistant. It may not immediately catch fire but the heat can melt it to the point that you'll need new siding. Painted wood siding also melts. All can catch fire.
Roof fires – Most modern asphalt roofing is Class A fire resistant. The keyword is resistant. That means if a few sparks land on your roof, it shouldn't ignite. However, a gutter fire will spread to your roofing system leading to costly roof repair or even a roof replacement.
Of course, any damage from a fire is an insurance claim. You'll want to work with a licensed contractor on your roof repair or replacement, new siding and gutters and any other damage repair. Peak Roofing Contractors can be your one call for all your insurance claim damage repair. We offer quality replacement products for your home and guarantee our repairs. Fill out our contact form or call us at 703-753-4585 today.