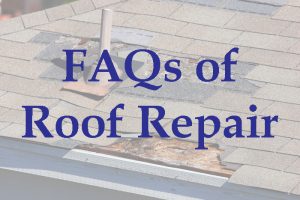 Perhaps the most frequently asked question we get is whether a roof repair can wait. The answer is always no. When you think (or know) you have a roof leak, ignoring it will only make the repair more costly. Here are some of the other frequently asked questions we're asked.
Can Any Roofer Repair My Roof?
Yes, technically, but you should want a roofing company who handles roof repair as a significant part of their business. Some roofers have roof repair teams who understand the best methods to properly repair the roof without making it look like there's a patch on it. Choose a roofer who knows roof repair.
Do I Have to Call the Roofer Who Installed My Roof?
Although you don't have to call the roofer who did the initial installation, if your roof is less than a year old, you might want to. Good roofing companies offer an installation warranty that states that the roof won't leak within a certain time and if it does, they'll repair it free. You shouldn't have a roof leak in the first few years after a roof is properly installed.
Why is the Roofing Company Recommending a Roof Replacement When It's Just a Leak?
Sometimes the roofer isn't ethical and is trying to get more money out of you than you need to spend. Other times the leak has caused significant damage or you have had so many repairs that they deem a roof replacement a better option. An honest and ethical roofing company will discuss why they recommend a roof replacement over repair.
Is Storm Damage Roof Repair Covered by My Insurance?
That depends. If the storm damage was reported within the allowable time to file a claim, yes, roof repair should be covered by your homeowner's insurance. If your roofing company and adjustor don't agree on the course of action or that there truly is storm damage, ask them to meet with one another and for the roofer to share their findings. Sometimes that will help get the claim covered as it should be.
How Long Will the Roof Repair Last?
When it is done properly by a quality roofer, it will not leak again under normal circumstances. An ethical roofing company will offer a repair warranty against further leaks because they stand behind their work.
Peak Roofing Contractors has dedicated repair teams. We always warranty our work whether it's a roof repair or replacement. You can trust us to stand behind what we do whether it's a big or small job. We accept all insurance claims and will meet with your adjustor in the event your insurance company tries to deny your claim. Call us today at (703) 753-4585 or fill out our contact form for your roof repair estimate.