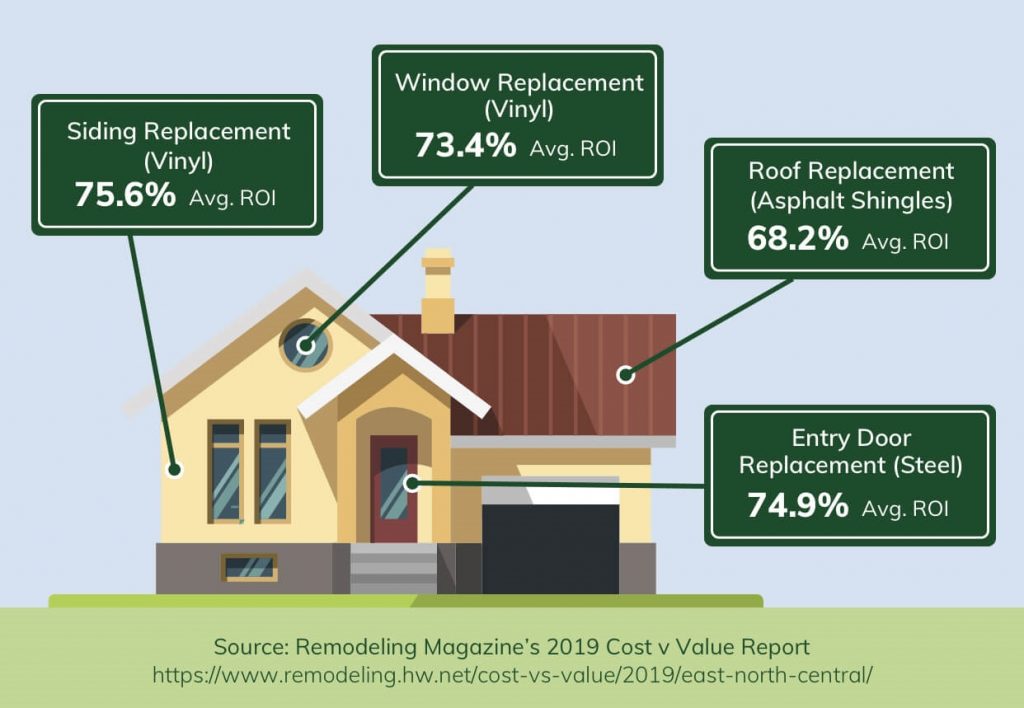 If you're considering a home makeover, you may be wondering if the change will be worth the investment. Keep in mind that although no project is likely going to provide a full return on investment, there are some that have greater returns than others. Here are a few that may surprise you.
Roof Replacement
Although there are many roof replacement materials, asphalt is, by far, the most common in the northern Virginia region. A roof replacement will bring you close to 75% ROI when you go to sell your home according to 2020 Remodeling Cost vs. Value Report. However, in addition to the actual return you'll see on your listing, you may also see savings in your heating and cooling costs. Newer architectural style asphalt shingles are more insulative than older three-tab variety. And, if you choose a shingle lighter in color, there will be less heat absorption leading to reduced cooling costs.
Window Replacement
Few people replace windows just to sell their home. Most want to enjoy the benefits of better energy efficiency and a more comfortable home. However, if you are considering the potential ROI before your purchase, you may be surprised to learn that vinyl replacement windows actually have nearly a 5% hirer return than wood windows which is only 69.9%.
Siding
There are two categories of siding that the 2020 Remodeling Cost vs. Value Report looked at in our area; vinyl and fiber cement. What surprised many homeowners was that the average return for both is above 80% with vinyl siding just edging out fiber cement with a 83.7% ROI compared to a 81.3% for fiber cement.
Doors
Sliding glass doors fall under the window replacement category. Entry doors, however have their own category and bring about a 73% return. Garage doors bring the best return on investment of all door types at 86%.
What sort of exterior renovation are you considering for your home? Peak Roofing Contractors can help with your roof replacement and more. We offer quality siding and window replacement as well. And, if you're renovating inside your home and need a rental dumpster, we can help with that too. Call (703) 753-4585 today to schedule an appointment to learn more about our exterior renovation services or fill out our contact form.