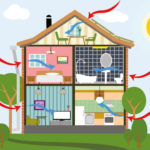 Did you know that the more you use your air conditioning, the more quickly it will need to be replaced? There are energy efficient home improvements you can make that will not only make your home feel more comfortable, but also help your HVAC system last longer. If you're looking at replacing your windows, roof or siding, consider these options.
Replacement Windows
When you think of energy efficient home improvements, you probably think of your windows. After all, last winter you probably walked by one or sat near one and felt the cold. In the summer, the sun and heat come through old single pane windows leading to a warmer home. Today's windows are not only better sealed, but also have Low-e glass which helps reflect the sun's rays. According to Energy.gov, non-ENERGY STAR® rated windows may be responsible for as much as 30% of your homes energy use.
Siding
Builders built your home with profit in mind, not energy-efficiency. Over the past decade building requirements have changed and new siding is one of the biggest energy efficient home improvements you can make. Few homes that are more than a decade old have insulated siding or an insulated house wrap beneath the siding. If you're looking to improve your home's curb appeal, also consider improving its energy-efficiency with an insulated siding or a whole house wrap.
Roofing System
Your roofing system may be contributing to your home's energy usage. A poorly insulated attic can increase your energy bills in both summer and winter. Homes build before the mid-80's have insufficient insulation and one of the least expensive energy efficient home improvements you can make is to add the right amount of insulation. Your roof's ventilation also plays a part in your roofing system and how it impacts the comfort and energy usage in your home. Your local roofer can inspect your ventilation and make sure it is sufficient.
Of course, if it's time for a roof replacement, choosing a lighter color shingle can help your home stay cooler. Some shingles are ENERGY STAR rated as Cool Roofing which can cut cooling costs even more. If your HOA won't allow a light-colored shingle, consider an architectural style shingle rather than a 3-tab. They're more insulative than 3-tab and can impact your home's comfort.
Peak Roofing Contractors offers home evaluations where we can make recommendations and changes that will make your home more energy efficient. We're far more than just roofing contractors; we offer replacement windows and siding that will help your utility costs and reduce the strain on your HVAC system. Call us today at (703) 753-4585 or fill out our contact form to learn how we can make energy efficient home improvements to your home.