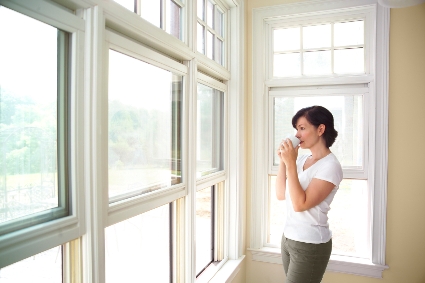 If you're considering replacement windows, you want ones that are energy efficient and look great, from both the inside and out. It's easy just to buy the same style and color windows you currently have, it's not always the right decision. Here are some tips to help you choose the right replacement windows for your home.
Look at the Style Options
There are many different styles of windows. Your home likely has single hung windows which only open from the bottom up. Although they're what builders put in almost every home, they're not the best option. Here are some other replacement window styles to consider:
Double hung – Double hung windows open both from the bottom up and the top down. In rooms with just one window, this can improve circulation and comfort. Plus, because both sashes tilt in, they're a breeze to clean.
Casement – Casement windows open with a crank and offer great air circulation as well. The drawback to many homeowners is that the window screen is on the inside.
Sliding – Sliding windows are just like sliding doors but on a smaller scale. Some only slide in one direction while others slide from both.
You may choose to combine styles or just have one in all areas of your home.
Materials
You can find energy efficient replacement windows in a variety of materials including vinyl, wood, aluminum and clad windows. Vinyl replacement windows are by far the most popular due to their low maintenance properties and affordable cost. If you want to be able to paint or stain your windows on the inside, you'll need either a wood or clad window.
Finishes
If your home is in a historic area or a style that lends itself to a particular style window grid, you'll want to make sure the replacement windows you select have that option. If you have bronze or gold finishes throughout your home, make sure the hardware seen from inside your home coordinates.
Extras
Is gas filled important to you? Are you looking for a window with a specific visible transmittance? These extras come standard in many premium windows or as add-ons in more basic ones. Talk to your window company about the extras available and their benefits.
Peak Roofing Contractors window division, Windows Unlimited, offers a wide variety of replacement windows in many styles and materials with a great selection of finishes and extras. Call us today at (703) 753-4585 or fill out our contact form for your free window consultation.