So Much More Than A Roofing Company
You know the name, and you've seen our work, but Peak Roofing Contractors – a family-owned and family-operated business that has proudly served Prince William, Fauquier, Culpeper, Loudoun, Fairfax and Arlington counties with over two decades in the industry – provides Award Winning Residential and Commercial Service for Windows, Siding, and Gutters too.
The Peak team offers expert roof installation, roof repair – and much more! For these improvement services, you can trust your home or business to our professional roofing contractors in Manassas, VA:
Award Winning Roof Replacement & Repair
Haag Certified Roof & Gutter Inspections
High Quality Replacement Windows
Extensive Replacement Siding Options
Built-to-Last Gutters
Attractive and Affordable Skylights & Sun Tunnels
Craftsman Level Exterior Trim Work
At the "Peak" of Customer Service
Peak Roofing Contractors' staff is dedicated to providing you with outstanding customer service from the start to the completion of your home improvement project. From the moment you contact our office, you'll know that we truly appreciate your trust in our company.
Whether your job is large or small, Peak strives to exceed your expectations by communicating clearly throughout the process. We'll set up a convenient time to inspect your home, explain our findings in detail and provide you with a full written estimate. We make it a point to arrive on time for work, and clean up thoroughly during construction.
Quality Work, Affordable Pricing – Guaranteed!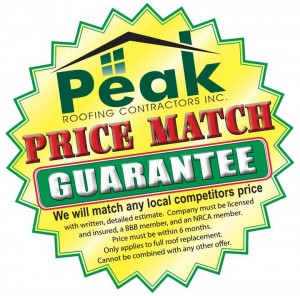 At Peak Roofing Contractors, we believe a business really can achieve both quality workmanship and affordable pricing. In fact, you'll find this every day on Peak job sites. We work hard to bring together the best of both worlds, so that no homeowner will have to compromise the care of their home because of cost. And if you happen to get a better price from one of our competitors, we'll match it! For quality work at a reasonable price, the choice is Peak Roofing Contractors.
Call for a Hassle-FREE Estimate from the Best Roofing Contractors in Northern Virginia
Peak Roofing Contractors would be pleased to provide you with a FREE, no-hassle, no-pressure written estimate for your roofing, window, siding or home improvement project. Give us a call at (703) 753-4585 and find out for yourself why Peak Roofing is quickly becoming one of the most recommended roofing contractors in Manassas VA, Ashburn, Fairfax and Gainesville!
Peak Roofing Contractors Deliver!
From Our Pricing, Warranties, and People, We Deliver Peak Performance for Our Customers:
FULL SYSTEM LIFETIME WARRANTIES
We Use Only the Best Materials
COMPETITIVE PRICING
No Gimmicks, and No Surprises.
Just Fair, Fast Quotes
QUALITY PEOPLE
Everyone on Our Staff is Licensed, Bonded, and Ready to Deliver for You
Look No Further. Get Started With Peak Roofing Contractors.